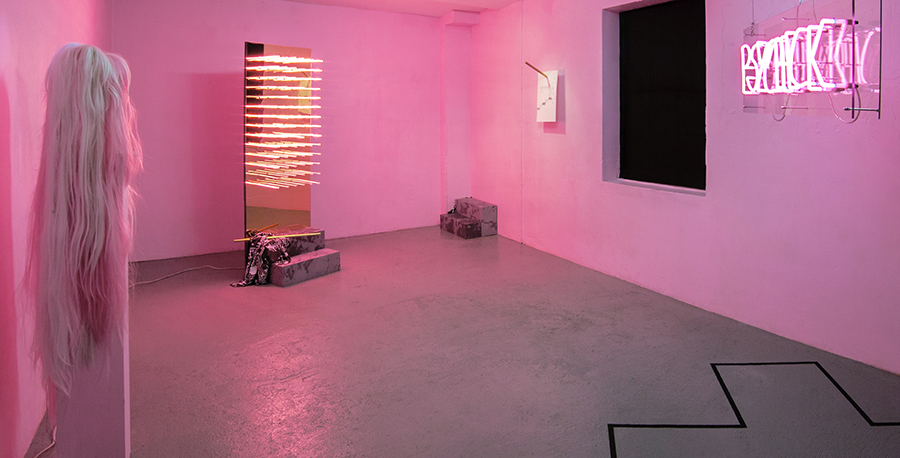 PINK CUBE (Oslo) is an intimate, non-profit exhibition space with a pink wall-paint containing bodily fluids, founded by Anja Carr in January 2011. With a good gender balance it is an alternative to the typical sterile white cube and its inherent power structures. The shows are art-battles between two artists(-groups) aiming to boost fruitful artistic dialogue. Above: Battle 17: Josefine Lyche vs. Richard Øiestad (2015).

Situated first at Grünerløkka and later at Grønland, Oslo, PINK CUBE is from 2018 a nomadic space, with the possibility of traveling to different venues and countries with it's unique wall-paint. For further information please visit pinkcube.no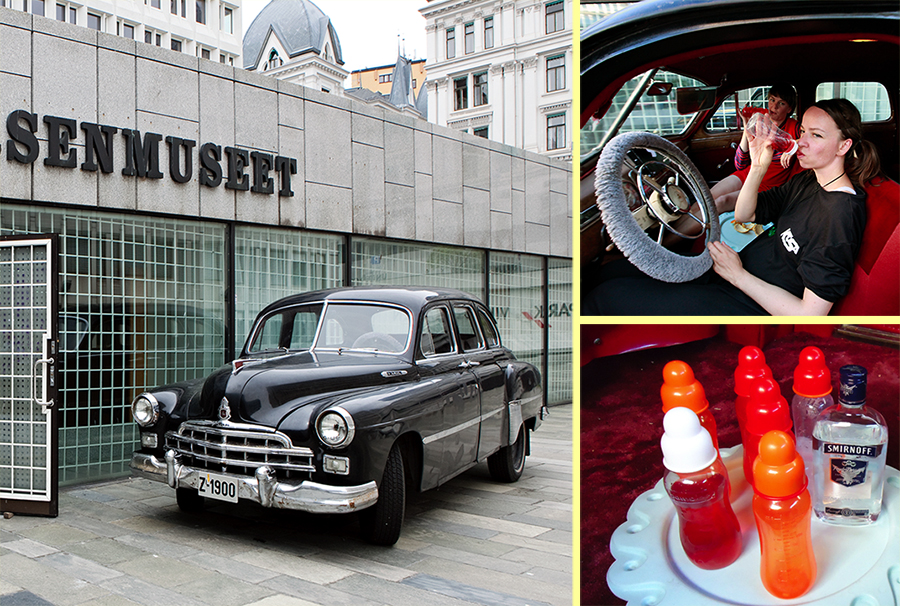 Zim zala bim (2011) - a performance-program outside Stenersen Museum, Oslo
Anja Carr placed a Russian limousin (a Zim 1958) by the main entrance on the terrace, where it's impossible to arrive by car. Three artists were invited to do one exclusive and intimate performance each inside the car: Monica Winther (NO), Joanna Rytel (SE) and Gøril Wallin (NO). The only audience were five different people each day who sat in the backeseat of the car. Images above from Rytel's performance. Article in Aftenposten (NO)
Tricolor (2011) - a one-night-show by Icecream art team (Niklas Sillén and Anja Carr) with guest artist Fadlabi, in the private home of Petr Svarovsky, Gulleråsen, Oslo

Icecream art team did their last show together after four years of collaboration with site-sensitive installations in all the rooms of the apartment. They invited Fadlabi to join the show and three ghosts in the colours of chocolate, strawberry and cream/vanilla represented the three artists. The ghosts served ice-cream and hot dog to the audience. Sillén did a performance in the living room, Carr did a performance in the kitchen and Fadlabi did a site specific installation in the bathroom as well as showing his collection of negro-objects in the living room.

Thanks to Petr Svarovsky, Marte Hodne Haugen, Elisabeth Kjellesvik, Mari Hofseth Opsahl, Silje Damman Henden and Eirik Senje!